ISMPP Committees and Task Forces
ISMPP's Committees and Task Forces are established to address pertinent topics, issues, and trends that arise in the profession and practices, and are formed to meet the needs of medical publication and medical communication professionals globally. Volunteer participation on an ISMPP Committee or Task Force offers the opportunity to collaborate with your fellow peers and contribute to information-sharing and knowledge-building activities that benefit ISMPP members and our broader community.
ISMPP members can express their interest in volunteering during the ISMPP Committee Volunteer Drive held in May/June each year. Volunteering for the ISMPP CMPP™ Certification Board, which has a separate nomination and election process, and the Recertification Committee are only open to those with an ISMPP CMPP™. Most ISMPP committees run in a yearly cycle starting in August/September, except for Meeting Program Committees and the Certification Board and Recertification Committee.
---
ISMPP Committee Structure
ISMPP Committees are organized into the 6 pillars below and are shown in the Committee Structure also below. Learn about the ISMPP Committees and their objectives. Also learn about current ISMPP Task Forces and their objectives.
Medical Communications

Medical Publications

Small Companies & New Professionals
Asia Pacific
Education
Credentialing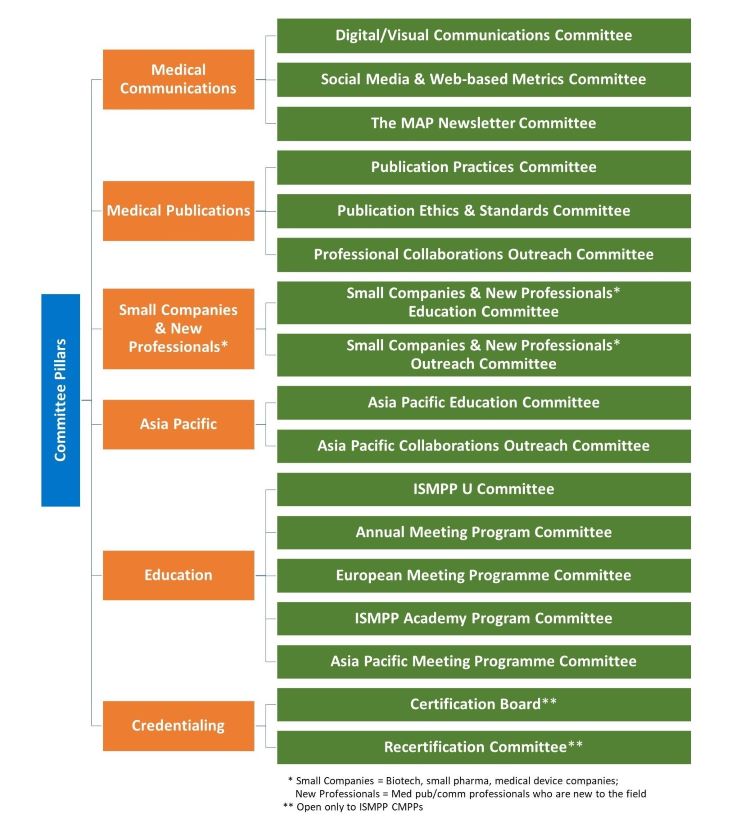 View the Committee Handbook for information about serving on an ISMPP Committee. Each year, volunteers must submit a Conflict of Interest and Responsibility form in order to serve on an ISMPP committee or task force.