Students, why Join ISMPP?
There are options out there for you in medical publications and medical communications!
View this webinar presented at Touro College of Pharmacy about an overview of medical publications communications industry and different career pathways. 
Click on the screen shot below and use password: 8GEc%367
Session two is available by using password: 9$Xkh#JX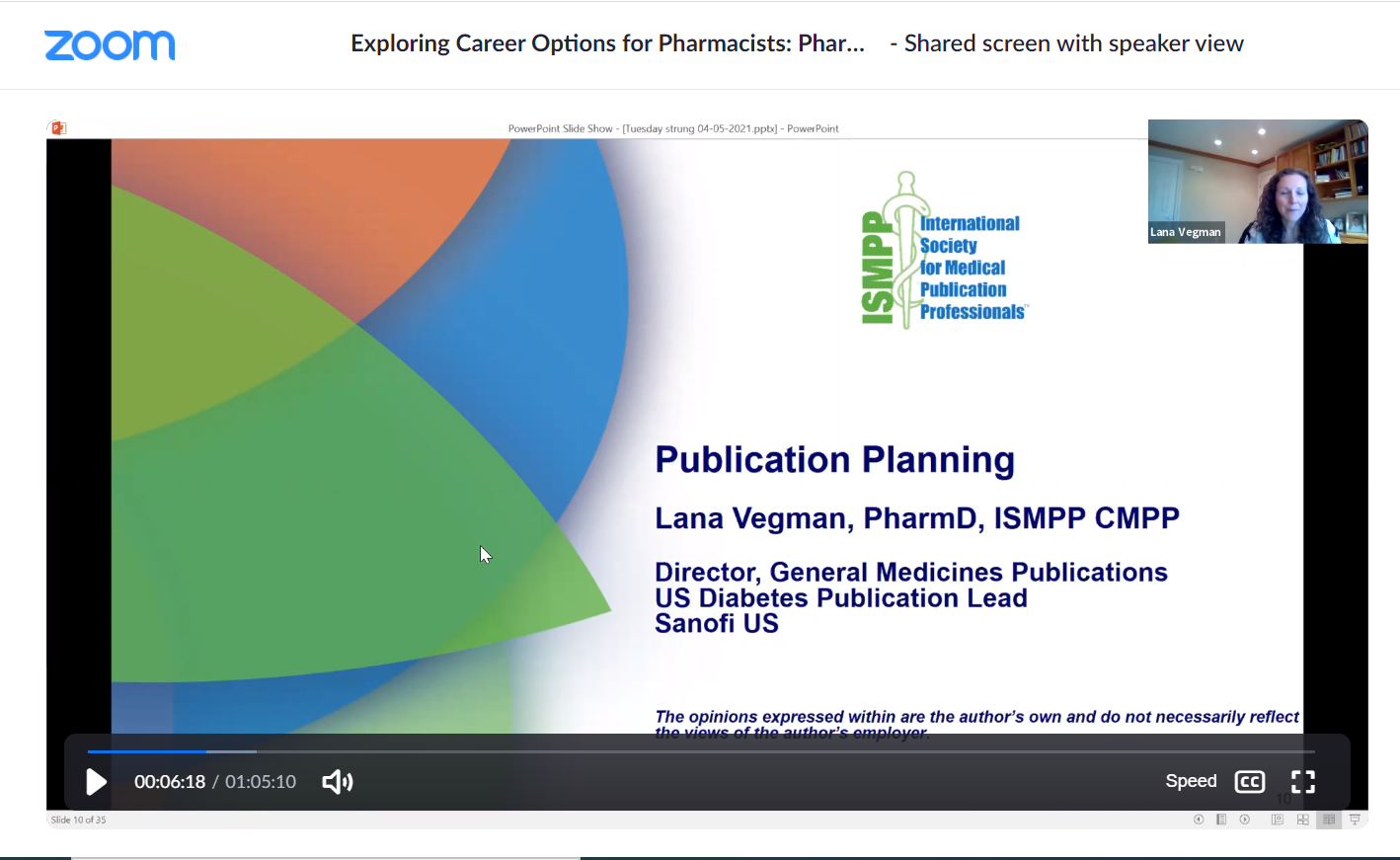 ---
Who Joins ISMPP?
ISMPP has more than 2,000+ members representing all sectors of medical publishing:
pharmaceutical, biotech, and device industries,
medical publications and communications agencies
journal publishers and editors
professional medical writers
and other allied professionals and organizations.
---
Student Membership

ISMPP is committed to serving not only the educational needs of publication professionals, but of future medical publication professionals as well! We are so pleased to offer a student membership, which will provide prospective medical publication professionals with:
education on various policies and guidelines impacting the profession,

best practices for ethical and transparent publication of data,  

and so much more!
ISMPP Student membership provides you with the tools and resources you need to expand your expertise and start a career as a medical publication professional. 
Student membership provides most of the existing ISMPP membership benefits at a greatly reduced cost of $95 USD, compared to $195 USD.
You qualify for ISMPP student membership if you:
are an undergraduate or graduate student enrolled in 9+ credits per semester
OR
enrolled in an accredited post-doctoral or resident program
AND
cannot be working full time
Student members will have many of the same benefits as full members, however student members may not:
be nominated for or elected to a position on the Board of Trustees,

vote in any Board election or participate in any other membership vote such as an amendment to our Bylaws, or

volunteer on an ISMPP committee (unless invited by Chair to represent Student member needs regarding a specific initiative on an ad hoc basis).
Must provide proof of current student status by uploading document from one of the following (all documents must clearly show current dates, your name and the name and address of the school):
A transcript or course list showing the courses you are enrolled in with current dates

A scanned copy of your student identification card with an explicit date on it (showing you are enrolled for the current school year)

A letter from your college student affairs or admissions office (on official college letterhead) stating that you are enrolled as a student with the time period

Proof that you have accepted an offer to attend an eligible college or university with current dates